The Rise and Fall of the Kinect: A Tale of Two Peripherals
Added: 10.01.2018 11:48 | 3 views | 0 comments


Chad from TXH writes: "The Kinect was born as Project Natal, and the world had its first look at the futuristic peripheral in a 2009 E3 hype video. It currently sits at a comfortable 14 million views on Youtube. The teaser told us that we are the controller, and what we were able to do as the controller looked simply mind blowing. It appeared that we would be able to control our TVs as if we were in a science-fiction movie."
Insurgency: Sandstorm's single-player campaign cancelled
Added: 05.01.2018 18:27 | 1 views | 0 comments


Insurgency: Sandstorm, the latest entry in the series that was announced at E3 last year, will no longer feature a single-player story, lead game designer Michael Tsarouhas has revealed. According to Tsarouhas, due to "high production requirements" and the commitment to launch this year, the decision has been made to cancel the campaign in order to ...]
Game Informer February Cover Revealed God Of War
Added: 04.01.2018 21:48 | 1 views | 0 comments


Game Informer: God of War has been among the most anticipated PS4 games ever since it was unveiled at Sonys E3 2016 presentation (complete with a live orchestra). Since the big reveal, fans have been hungry for more details about the games mechanics, including specifics about combat. However, Sonys Santa Monica Studio was guarding that information closely until now.
Edawn 1.6.0
Added: 04.01.2018 15:17 | 1 views | 0 comments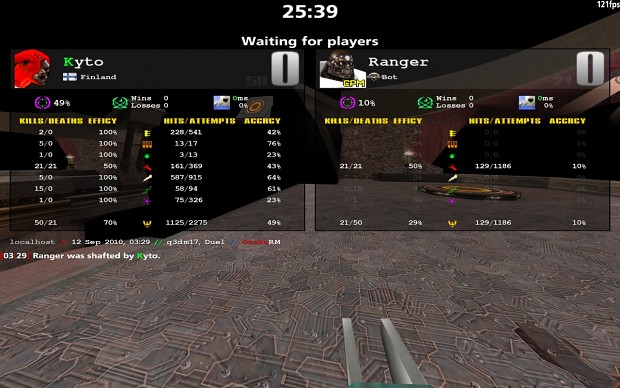 Excessive dawn (edawn) is a free Quake 3 Arena mod, with numerous improvements, both client and server side. Biggest feature is the fact you can tweak almost every single aspect of the game, from weapon behaviour to making your own mini gametypes. All powered by a tweaked netcode. Mod works with any Quake 3 version that uses QVM (quake virtual machine): vanilla Q3 Arena, open arena, ioquake3, whatever executable you might make yourselves...
Anthem will go with cosmetic-only loot boxes, analyst predicts
Added: 03.01.2018 23:30 | 3 views | 0 comments


There is a good chance Bioware's upcoming Anthem title will feature loot boxes, considering it's being published by EA, but one well-known analyst believes the game's monetized content won't go down the same dark path as the recent Star Wars Battlefront II. Anthem was the hot ticket item at E3 2017, but after the publisher's ...]
Capcom confirms "autumn 2018" release for Monster Hunter World on PC
Added: 03.01.2018 17:23 | 3 views | 0 comments


Capcom has announced that Monster Hunter World will arrive on PC sometime this "autumn", considerably later than its console counterparts.
Monster Hunter World is due to launch on Xbox One and PlayStation 4 in the UK on January 28th. A PC version was confirmed for release when the game was first revealed at E3 last year, but Capcom has been notably vague on its status since then.
However, the publisher has now, finally, offered an update, that Monster Hunter World "is currently being optimized for PC and is planned for an Autumn 2018 release".
Spider-Man includes more Miles Morales than we anticipated
Added: 02.01.2018 20:00 | 2 views | 0 comments


Spider-Man successor Miles Morales will play a larger role than many of us, including the game's developers, thought in the upcoming PS4 Spider-Man. Morales was first revealed to be in the game during its E3 2017 trailer. The character was saved until the very end of the trailer, and didn't do much apart from watch ...]
Days Gone: Latest gameplay, open world, and release date updates
Added: 01.01.2018 23:00 | 4 views | 0 comments


Games featuring zombies are less than fresh at this point. Still, Bend Studio's Days Gone may have found a new angle on surviving hordes of the undead. The open-world action-adventure game first caught gamers' attention with a harrowing debut trailer featuring an unstoppable wall of zombies back at E3 2016. Since then we've seen a ...]
«

Newer articles
Older articles

»